AW History holds seminars, webinars, workshops and other events related to medieval history. Details will be posted on this page about forthcoming events.
Webinars
We have held a webinar on the Cliffords during the Wars of the Roses. To view a free video of the webinar please click here
Other Events
Other events which you may be interested in include:
Appleby Archaeology
Appleby Archaeology is a local archaeological society that holds meetings in the Appleby Market Hall. Adrian Waite is one of their committee members.
The speaker at their next meeting on 11th April 2019 is Kevin Mounsey who will speak about the Roman Bath House that has been discovered in Carlisle.
For more information, please click here.
Red Wyvern Society
The Red Wyvern Society is a fifteenth century re-enactment society that depicts as many aspects of life in that period as possible including arms and armour, archery, siege warfare, cooking and crafts.
To find out more about any of these events click here
The Towton Battlefield Society
The Towton Battlefield Society organises various events including a commemoration of the Battle of Towton each year on Palm Sunday, the anniversary of the Battle.
To view or download the programme of events for 2019, please click here.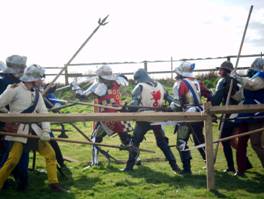 Battle of Towton Commemoration
Looking for a Historical Presentation?
Adrian Waite is also prepared to make presentations to Historical Societies, Museums, Colleges and others for an appropriate fee. For more information please contact Adrian.